April 21st, 2009
When I was a very young child, I loved to draw. I drew on used envelopes and in margins of magazines. I often wondered what to draw. I liked tugboats and drew them over and over. One day I asked out loud, "What should I draw?" A voice out of nowhere responded immediately, "...all that is beautiful." Now I'm sixty-two years old and I have been an artist all my life. My conversation with the voice out of nowhere (God) has continued unabated.

My relationship with God is what I represent in this painting, "Patience and Promise." God is patient with me because I have promise and I wait in patience for God to fulfill His promises. Patience is loyal and full of honor and reverence. Promise is intelligent, giving, and full of love. This friendship is more powerful than the barren fields of despair represented in the painting and defines the true reality of my life.

January 21st, 2009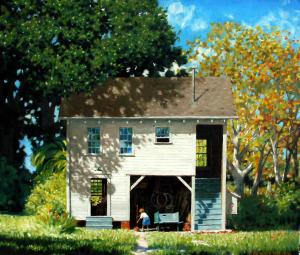 One of my fondest childhood memories was visiting my grandmother and my great uncle who lived on the corner of Pine and Bilbo Streets in Lake Charles, LA. Samuel Kinder, Uncle Hubby, as he was known to us kids was one of the most fascinating people I have ever known. He was a life-long bachelor and lived above his woodshop behind my grandmother's house. He made toys and furniture and whittled the most wonderful carvings. There was no end to his clever inventions, like the time he fashioned his own wooden leg. He invented a locking device in the knee which prosthetic manufacturers copied and incorporated into their product. He made the most beautiful train out of wood; it had an engine, coal car, hopper, and caboose which had little benches and tables inside that you could see through the windows. All this was done by hand.

Hubby bought one of the first tablesaws. It was so loud that it terrified my grandmother. Every time he would turn in on, my grandmother would have us all kneel down and pray the rosary or else she would go into hysterics! Hubby would come into her kitchen every afternoon at 2 p.m. for tea and they would get into a big argument about the safety of operating such a dangerous machine. He was not to be deterred.

I used to have many hours of fun pretending I was mowing the yard with a unique sickle lawnmower that he invented made out of wood and painted with stars and bright enamels. We would pick pecans up off the lawn with tin cans nailed to the end of sticks and he would tell me of his adventures. If I helped clean up her yard, my grandmother would give me a dollar or two to go around the corner to Della's lunchcounter and buy hamburgers.

In his younger days, Hubby drove a stage coach for Wells Fargo. He worked many years in the sash and door business as a craftsman assembling weighted window frames and storefronts on-site. He steam-bent planks in his front yard for sailboats before the advent of plywood. Hubby's days were free because he worked as a night watchman at the port.

Uncle Hubby died before I was old enough to go to school. My youth seemed to be a capsule of a distant and magical time. Now that I am in my sixties, it all comes back to me so clearly. Much of my artwork harkens back to the salad days of my youth.

The toys have long since broken and the property bull-dozed for a housing development but my memories remain clear as a bell. The smell of bread baking in my grandmother's oven; the big, hand-cranked meat grinder clamped to her huge kitchen table just low enough for me to peek over the edge; and the chime of the old wall clock on her kitchen wall are still so vivid in mind.

A few reminders of Hubby still reman in existence, like the porch swing, which I ended up giving to a friend; a little wooden bell from the toy steamengine; and a toy sailboat sitting on my mantel. Every morning, I sit at the rolling desk with many little drawers that he made. Those days seems so large and time stood still. Who, today, takes time to sit and whittle? We're all so busy these days. Much of my inspiration flows from these timeless days.